Previous Post:
Italian Marble Medallions Are Ideal Flooring Products
&nbsp Next Post:
Marble Medallions From Marvelous Marble Design Inc. Are a Smart Choice For Luxury Homes
Custom Marble flooring and medallions come in a wide range in the market. You have a wide selection from which to choose the best for your home. Owning a beautiful house in Toronto is common. However, you can create a luxury home in Toronto using custom marble flooring and medallions. They are great for every room in house. This is based on the fact that they come in a wide range of texture variation; they have a rich luster and raw color. The medallions are perfect and are high end flooring materials for your home.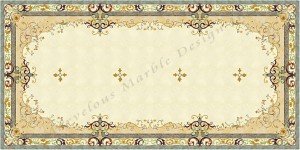 Custom marble flooring enables you to spruce up your home and create a luxurious environment. With a Luxury floor medallion, you can be sure to enjoy spending quality time at home. Water jet cut marble medallion simply allows you to own a custom built house that is valuable and impressive from the word go. The medallions are highly ornamental and come in a wide range of shapes. This is custom made to suit your personal needs best. They are stylish and allow you to create a realistic and luxurious environment at home. What's more, the colours are impressive and are great for enhancing your interior décor.
Additionally, marble is a high quality and luxurious material. They are an excellent flooring option to use especially in high traffic areas at home. Its natural variations add an instant appeal to your home. They can also be customized or cut to draw a desired pattern at home. Moreover, the pieces are available in different patterns. Therefore, you can choose different patterns for different rooms in your home. However, ensure to get the best medallions from well reputed dealers. Quality medallions are reliable and efficient. More importantly, ensure to settle for the best installation contractor. This is to ensure the best marble flooring and for that luxurious look in your home.