Previous Post:
Marble Medallion for a Luxury Home in Toronto
&nbsp Next Post:
The Beauty of Luxury Marble Flooring
Marvelous Marble Design Inc. is offering a variety of marble medallions design for luxury homes. The company understands the important of having a home that stands out. For this reason, they design high quality durable medallions that have numerous longevity features. Luxury homes in cities such as Los Angeles, Chicago, Florida, Texas and New York spot these beautiful designs from the company. You can also invest in these in order to increase the appeal of your home. With marble floor from, you don't have to worry about experiencing any difficulties while cleaning and this is because of the simple reason they are easy to maintain and clean.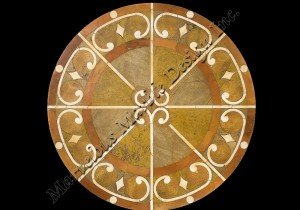 They offer a variety of marble medallions options for you to choose from. Among these, you will find water jet cut marble medallions, oval marble medallions and marble borders. Regardless of what you choose, rest assured that the artistic and aesthetic appeal of your home will be enhanced in a tremendous manner. Luxury floor medallion from Marvelous Marble Design Inc. is not your average solution. These have the ability of making your home stand out in a tremendous manner and what is more, they can meet your personal needs in a manner you never thought imaginable.
Weather is one of the aspects that affect the type of floors used but with marble floor, you don't have to concern yourself with this. The materials used in designing the marble medallion are of the highest standard possible and as such, guarantees to withstand cold and warm climates alike. The company ensures that no compromises are made when designing your marble floor. It is for this reason that they take time to highlight all the design options they have. They also give you an opportunity to decide what works best for you. As such, anyone with luxury home in Chicago, New York, Texas, Florida or any of the other cities should not overlook consulting with Marvelous Marble Design Inc. in order to get the best marble medallion.